I have been streaming for about two and a half years now and I have seen the stats on twitch change, but twitch itself has stayed stagnant.
Getting partnered is a problem (one I will touch on at the end), but growing a stream and maintaining a viewer base afterwards is equally if not more challenging. This is made even more of an issue by the rampant botting on the twitch page over the last two months. I have an
imgur album
from ten minutes spent on twitch just checking streams.
(I have shared this with Twitch and they were quick about responding. They seemed receptive to considering other options!)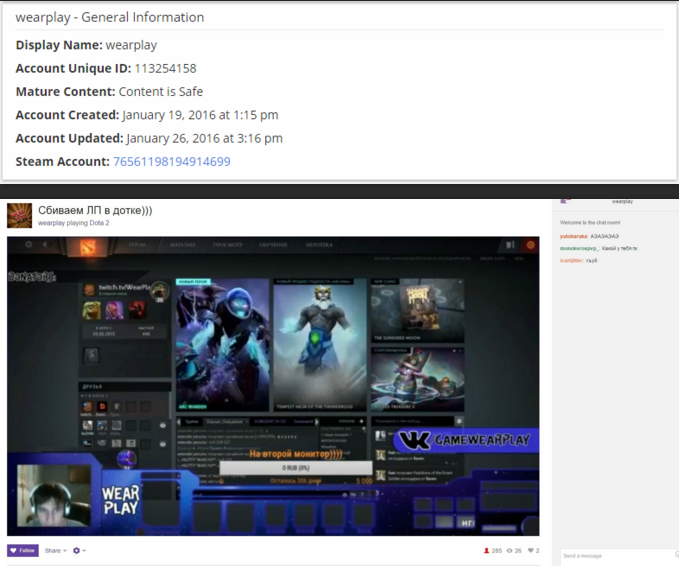 This isn't occasionally botting on one or two channels, I am talking about dozens of channels 24/7 botting themselves to the top of the page. They are new accounts with dead chats, low followers, and they're not being hosted. They are also entirely russian - I have yet to check in on a high viewer stream that fits this criteria that isn't russian. Why do I feel affected? I'm not a competing russian streamer, but my stream is not growing. I have a year of stats showing my average stream growth, and since the botting began, my channel has been stagnant. Of course I am noticing this for selfish reasons, my channel growth is important to me, and it should be important to twitch. Partners should be shown some kind of courtesy, yet we are being destroyed by someone spending $5 for a few hundred fake viewers to boost them to the top of the page.

Since I began streaming seriously in Jan 2015 I could expect 300-400 follows/months. February has shown no growth despite no change in schedule on my part.
There is a little trick that not many people know. If you add /en to the url when you are looking at a twitch games page, you only see english streams. When I do this, myself and other real streams show up at the top of the page! If you leave off the /en, you have to scroll for quite some time to find us, because there are at least ten if not twenty or more fake streams in the way. I am annoyed and I am frustrated. If I were a regular twitch viewer, I would be annoyed. I would like to only see streamers in my language. On top of that, I can usually only watch streams with mobile quality settings, so I need a partnered stream.
Twitch has no filtering options. This may have been okay three years ago when there were fewer streams and a lower viewer base. Why do we not have a language select option? Why is there not a "quality settings necessary" option? In fact, I think that on a game page, it should show all partnered streams in one column, and all unpartnered streams in another column. This would shove all the bots over and stop hurting streams that twitch
should
be protecting. If botting is ever dealt with, this would also give newer streams more exposure and give people who like new streams easier access to them. It would also profit twitch; giving partners more exposure would give twitch more opportunities for money.
The column idea is my dream, but I am sure it makes way too much sense for it to be anything we can expect to see. Filtering options are reasonable, and it is stupid that we don't have them. Language, quality options, partnered, viewer count min/max, gender (don't get on your moral high horse, we all know some people love female streamers, and some people never want to see them), and who knows what else could all be added at the top of the page. I worked hard to make my stream how it is, I would prefer that it doesn't die out because there is some new russian botting program ruining the entire system.
Advanced search settings are present everywhere else, it is time we got them on twitch.
If porn sites can do it, I am sure that twitch can handle it.

While I am speaking from a perspective of a partnered streamer, I do want to touch on growing a stream to the point of partnership. I had an incredibly frustrating experience with it; I was told my stats were not sufficient for twitch to make money off of me.
I had started out looking to earn partner on my own, but following the immensely questionable instant partnering from the Mango stream raid, I lost my cool and did what everyone else does. I used the friends and connections (okay maybe it was mostly the boyfriend connection) to get in contact with someone at twitch who actually knows something about Dota and how the community works. I got my button two days later. I had someone nice assigned to my stream to help me out with any issues that might arise (he recently got his face on a global emote and everything) - I had finally made it.
Did I feel bad? I did then, and I still do. I feel like it is immoral to use my personal connections to push my stream forward, but in reality, I think that is how it always works.
The cursory glance over my application ignored my growing twitter following, my presence at closed events, ties to the community, and decent potential for growth. They have no metric to know how many people will subscribe; basically they have no way to know if will they profit from their initial investment in you.
I know it is easy to criticize, every system has flaws. I won't point out a flaw that I don't have a suggestion for. What if streamers who were looking to get partnered, but don't have the requirements twitch is after (an average of 500 concurrent viewers-hah), had an option for some kind of campaigning? Imagine if there was a "pledge to subscribe." People give twitch the $4.99 and pledge their support for a streamer getting partnered. If the streamer cannot generate a decent amount of support in a set time frame (3 months maybe?), people get their money back, and the streamer can try again in 4-6 months.
We
already see twitch losing money over to patreon
(or a new one called Gamewisp)
- streamers move to using these for establishing "subscribers" when they are unable to break through the bureaucracy of partnering. In my push for partner, I had several people hoping to subscribe, and in my first week with a button I got at least 40 people. I am one of those people who is happy to say I told you so. So, twitch, I told you so.
Not everyone has my options of connections, but that doesn't mean they deserve less recognition or opportunities. There is a large community aspect for how twitch works; small viewer stream may have much more of a community than a larger one, and it can have more potential for profit. The community should be given a chance to speak up and show their support.